Huskies overcome hurdles
---
---

---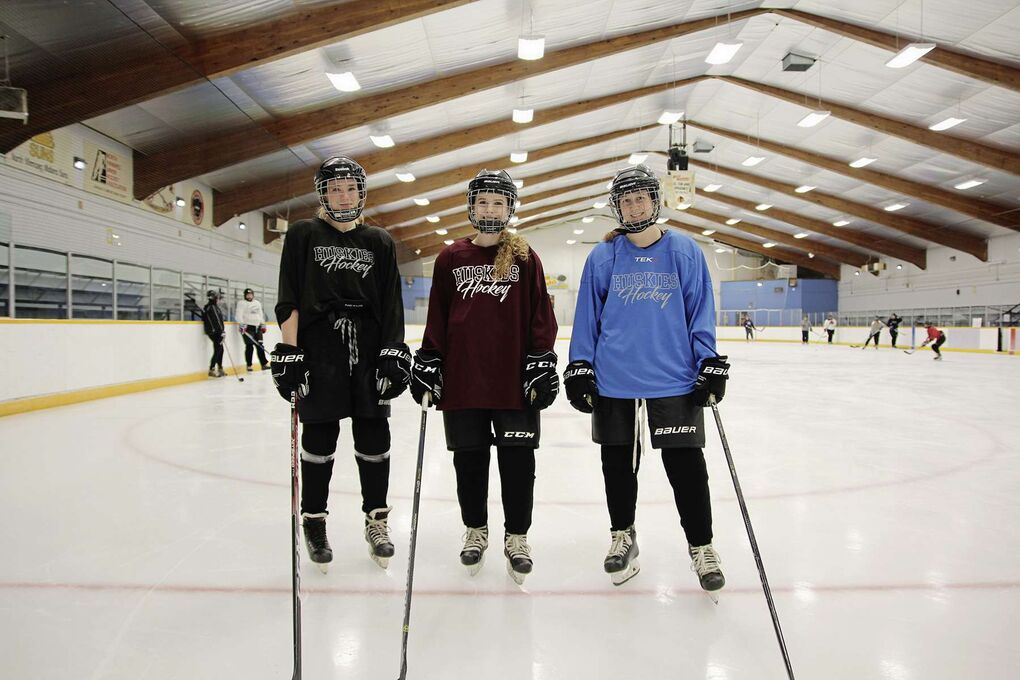 This year marks the 25th anniversary of the Winnipeg Women's High School Hockey League. Fittingly, the league's three divisions are powered by 25 teams this season.
And one of those groups that managed to build back and enter the standings is the Sturgeon Heights Huskies girls AAAA varsity girls team.
Erin Johnsrud is the Huskies' assistant coach; she also teaches history at Sturgeon Heights. Attrition owing to the COVID-19 pandemic slowed down the process of assembling this year's team, Johnsrud said. Some students opted to pick up part-time jobs in lieu of joining the team, she added.
A July 2021 study from Canadian Women and Sport reports that "one in four girls whose participation was negatively impacted by COVID-19 are not committed to resuming their pre-pandemic sport participation levels post COVID-19."
The report consulted with 5,000 Canadian families with girls ages 5 to 18 from March to early May 2021. If the numbers hold true, Canadian Women and Sport estimate that over 350,000 girls won't return to sport.
Despite the slow start, new and returning Grade 9 to 12 Huskies stepped up to recruit classmates, at the behest of the coaches, and the Huskies entered into the 2021-22 season with a rounded lineup. Bailey Majcher, a Grade 12 student at Sturgeon Heights, likes playing for the school team because it allows her to connect with classmates.
"It's kind of like a second family sometimes," Majcher, a 17-year-old forward, said.
Before joining the Huskies, Majcher played for the Interlake Lightning and the St. James Assiniboia Minor Hockey Association's Rockets A1 and Titans AA teams. Majcher sees this season as an opportunity to refine her hockey skills.
"I just want to see improvement, working together as a team, making nice plays, and just doing our best," Majcher said.
Nevaya Bate, 15, is in Grade 11. Like Majcher, Bate is a forward and played club hockey for the SJAMHA's Rockets A1 and Titans AA teams. For Bate, there's also benefits to playing sports with classmates.
"You get more of a sense of community when you're playing for your school. You have all your friends from school, people you grew up with who can support you," Bate said. "Getting back out onto the ice has been refreshing. I felt so disconnected from hockey."
Bate practiced shooting and stickhandling from home and stole away to an outdoor rink when she could. With nearly a decade of hockey-filled winters behind her, Bate felt the absence of her team.
"I didn't really know what to do with myself or do with my free time," she said.
Madison Haisell, 15, plays defence for the Huskies. The Grade 10 student said she enjoys bonding over hockey with her teammates in between classes.
Looking forward to the rest of the season, the team is hoping to match the success it saw during the 2018-2019 playoff season in which the Huskies became the Winnipeg Free Press Division 2 champions.
At press time, the Huskies had three games in the rearview mirror, with a record of 2-1-0. The athletes will face off against the Fort Richmond Collegiate Centurions on Tues., Nov. 16 at Richmond Kings Community Centre.
Like the Huskies varsity boys hockey team, the girls are looking forward to returning to their home ice at the St. James Civic Centre in the New Year.
Katlyn Streilein
Community Journalist, Reporter/photgrapher for The Metro.
Courtesy of: https://www.winnipegfreepress.com/our-communities/sports/Huskies-overcome-hurdles--575776251.html